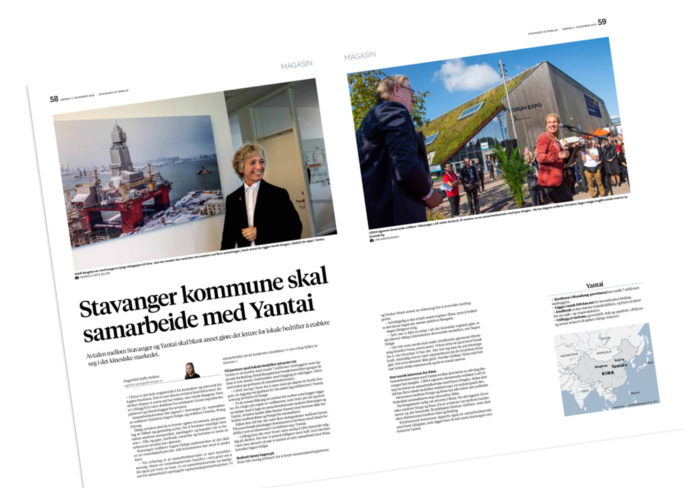 The city of Yantai, China, and Stavanger, Norway, have signed an agreement that provides the basis for cooperation and value creation between the two cities. The agreement was signed in Stavanger in September by Mayor of Stavanger, Christine Sagen Helgø, and deputy Mayor of Yantai, Wang Jidong.
"In China, it's absolutely crucial to have contacts and networks to do business. That is something that this agreement can contribute to, says Heidi Baugstø, chairman of the Stavanger based companies Ocean Aquafarms and North Sea Rigs in an interview with the paper Stavanger Aftenblad.
Based on many years of business experience with China, she has worked for closer cooperation between the two cities.
According to the agreement, Yantai and Stavanger will "make concerted effort, on the basis of equality and mutual benefit, to promote friendly people-to-people contacts and economic and trade interflow between the two cities." Oil and gas, aquaculture, smart city and tourism are some of the sectors the agreement has outlined.
Yantai is a coastal city with about 7 million inhabitants located east of Beijing. Heidi Baugstø has visited the city several times in the last years in connection with the construction of oil rigs.
"In 2015 I was in town to join the naming ceremony of our rig, the North Dragon. I was the godmother, and met the Mayor of Yantai. I invited him to Norway, and two years later I got a phone from the yard. On behalf of the Mayor they wondered if I could help to make an agreement between Stavanger and Yantai," says Heidi Baugstø who is very pleased with the agreement that has now been signed.